Thank you Stevens County Professional Firefighters IAFF Local 4333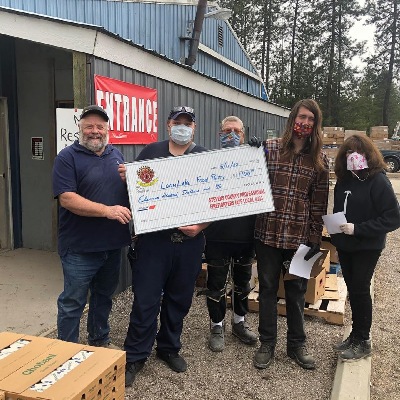 Teen Volunteers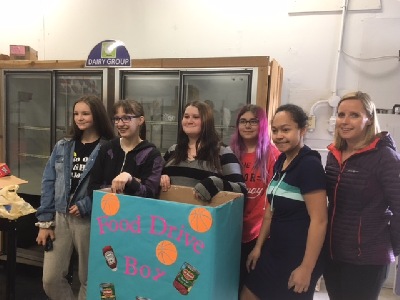 Tracy Tobeck and her class "Charity Never fails" located at Deer Park Home Link, called to ask if her they could do a food drive , and donate the food to our Loon Lake food bank. Of course, we said YES! Tracy asked if there were specific foods they could be thinking of asking for. I said that the young people could think about the kinds of food they would like to have and that's the kind of food the clients could take home to their family, which many probably have teens. After the month-long food drive Tracy called and we made plans to have the kids bring the food on March 26th and weigh it in. That's exactly what happened, these beautiful, energetic, young ladies came with two vehicles full of food. They gathered everything from yummy cereals, mac and cheese, canned spaghetti, & meatballs, and so much more. We spent the first half an hour weighing in food, which they did the actual weigh in, and recorded the weights " 447 lb." was the grand total. Way to go girls. And a huge thank you to all that were able to donate.

After the weigh in I gave them a tour of the food bank. And I must say, I was surprised at the reaction they had concerning all the food. They had no idea it took so much food, to feed the family's that need it. We were able to give them information about 2nd Harvest and NW Harvest, and other places we get food to feed our community. We send a truck five days a week to do grocery rescue. They were also able to tour our cooler and freezer, and warehouse. We were able to educate the students about how a food bank operates to provide a community service. And Maybe we will have some volunteers from this experience.

We would just like to give a huge thank you to Tracy, Bettie, Zoe, Myranda, Mya, and Rebecca. You were an inspiration to me, and would love to have you work with us anytime.

If anyone has some time to spare, we are looking for a truck driver (no CDL is needed) and a rider to help the driver load the food in the truck. Please come talk to me (Liz Bauer), if you would like more information on opportunities to help out at the food bank.